The Eagle's Colorado Mountain Haven
Santa Fe Trail Ranch E-9 (33800 Trail Ridge, Trinidad)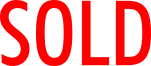 Magnificent big views. This property is one of the best values on Santa Fe Trail Ranch.  Price point on this ranch for this type of property is well over 90K.  Amenities include power, phone and opportunity to hook up to City Water system.  Pristine mountain land 15 minutes from historic Trinidad and close to major recreational opportunities.  Private but accessible year-round. Located above/near the Gallinas Creek fishing area/wildlife viewing/picnic and addtl. hiking area.
Price:
$84,900.00
SOLD
146
Features at a Glance...
Views in all directions
Wildlife
City Water
Logistics Great
Pristine Forest & Meadow Parks
Power and Phone LIne to Boundary
Views in all directions
Have a question about this property?
Want to see it for yourself?
Call or text 719-680-0743 anytime.
(Your call will be answered by a friendly real estate professional, not a call center.)
Quick Facts...
Street Address: 33800 Trail Ridge
Closest City: Trinidad
County: Las Animas
Zipcode: 81082
Longitude: -104.561605228125
Latitude: 37.038682075563
Ranch Development: Santa Fe Trail Ranch
Parcel Number: E-9
Parcel Size in Acres: 35.3
Tax ID: 11013300
Tax Year: 2014
Taxes: 9.33
Zoning: Agriculture
Legal Desription: SANTA FE TRAIL RANCH UNIT-8- (OAK PARK) LOT-E9- CONT-35.30 ACRS M/L (LOCATED IN TWP-35- RNG-64)