Colorado Dream Land!
Santa Fe Trail Ranch G-15 (36544 Tin Cup Trace, Trinidad)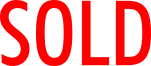 Colorado mountain dream land....and what an affordable price for this "most wanted" ranch...close to historic Trinidad, Trinidad Lake and Highway I-25 and Hwy 12...you can choose your freedom activity everyday and still be close to a small city lifestyle.  Hike, Bike, Ride or fish on the large ranch common areas and feel like the world is one of beauty and magic.   Utility amenities and Metro Community City Water. 
Price:
$69,900
SOLD
411
Features at a Glance...
Views
All utility amenities -City Water
Large Common Areas for Riding, Hiking, Biking and more
Virgin Forest
Views
Have a question about this property?
Want to see it for yourself?
Call or text 719-680-0743 anytime.
(Your call will be answered by a friendly real estate professional, not a call center.)
Quick Facts...
Street Address: 36544 Tin Cup Trace
Closest City: Trinidad
County: Las Animas
Zipcode: 81082
Longitude: -105.145962108447
Latitude: 37.0900841069881
Ranch Development: Santa Fe Trail Ranch
Parcel Number: G-15
Parcel Size in Acres: 35.56
Tax ID: 12277000
Tax Year: 2014
Taxes: 9.45
Zoning: Agriculture
Legal Desription: SANTA FE TRAIL RANCH UNIT-10- (OAK PARK) LOT-G15- CONT-35.56 ACRS M/L (LOCATED IN TWPS-34-35- RNGS-63-64)