Colorado is calling you...live your adventure~
3F Elm Street, Cokedale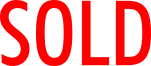 If history and the crisp clean air of Colorado is calling to you....you will want to consider this very special opportunity to build upon your dreams and possibilities! The "Old Boarding House - or Carbon Hotel" in Cokedale west of Trinidad and off Highway 12 is full of possibilities for you to either raise a large family or serve the lifestyle imaginations of today's Colorado! 5712 SQ FT of living spaces combined with the old hotel and boarding house features is an exceptional value and opportunity. Two master suites and 7 additional bedrooms with studies, great room large kitchen/dining/reception area and more...oh and did I tell you about the gardening and playhouse area? Register now and secure your place in the southern Colorado Lifestyle of the future! Conditional Use Permit is historic use right upon appropriate application.

Price:
$375,000.00
SOLD
414
Features at a Glance...
Pro panel Roof
Front and Back Porches
French Doors
Hardwood Floors
Historic Hotel Reception Area
Great Alt. Energy Woodburning Heat System
Upgraded Electric and Plumbing
Access to Conditional Use Permit for B & B
Pro panel Roof
Common Area Room
Some Furnishings Included
Have a question about this property?
Want to see it for yourself?
Call or text 719-680-0743 anytime.
(Your call will be answered by a friendly real estate professional, not a call center.)
Quick Facts...
Street Address: 3F Elm Street
City: Cokedale
County: Las Animas
Zipcode: 81082
Longitude: -104.6217586
Latitude: 37.1446797
Year Constructed: 1907
Total Number of Bedrooms: 9
Total Number of Bathrooms: 5
Total Number of Rooms: 23
Square Footage Above Grade: 5712
Total Square Footage of Living Area: 5857
Parcel Size in Acres: .34
Tax ID: 14600000
Tax Year: 2014
Taxes: 192.55
Zoning: Residential with right for Cond. Use Permit
Legal Desription: COKEDALE ROW-F-LTS-3-4-5-AKA THE OLD BOARDING HOUSE