Home Sweet Sweet Weekender Custom Cabin on 35+ACRS
Plaza de la Vista 9 (10525, Weston)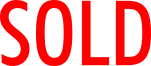 West of Trinidad and near Weston off Hwy. 12 is a custom built chinked weekender off grid cabin on 35 beautiful VIEW meadow acres that will make your heart sing! Explore, relax and breathe in the Purgatorie River Valley full of Elk, deer and wildlife..Or will you wait to enjoy life to the fullest? Call us now for your personal tour and live your dream now!
Price:
$100,000.00
SOLD
428
Features at a Glance...
Custom chinked cabin
VIEWS of the Sangre de Cristo Mtn Range
Hiking Trails
Meadows
Unique self-sustaining features
Seasonal Creek
Have a question about this property?
Want to see it for yourself?
Call or text 719-680-0743 anytime.
(Your call will be answered by a friendly real estate professional, not a call center.)
Quick Facts...
Street Address: 10525
Closest City: Weston
County: Las Animas
Zipcode: 81089
Longitude: -104.783199
Latitude: 37.144537
Ranch Development: Plaza de la Vista
Parcel Number: 9
Parcel Size in Acres: 35.50
Tax ID: 10702800
Tax Year: 2015
Taxes: 12.77
Zoning: Ag Vacant
Legal Desription: PLAZA DE LA VISTA SUB-DIV-TRACT-9-CONT-35.50 ACRS M/L (LOCATED IN PT-S2NW-PT-SWNE 29-33-66)