Aspen Rose 4 (20016 Whiskey Canyon, Weston)
Weston, Colorado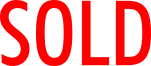 Beautiful beautiful Aspen Rose....not too many like it and if you are looking for land to change your perspective... calling you to live as free as the eagle.. with year round accessibility & privacy...you need to call now. Electricity at property line, driveway and views to bank on. Do not wait...the call of the wild may be your last chance to buy at this price: quality & magnificence!
Price:
$87,500.00
SOLD
16-1039 434
Features at a Glance...
Alpine Forest
Incredible King of the Mountain Views
Driveway
Private Road - Privacy
Light Covenants
Live and Let Live Attitude!
Alpine Forest
Have a question about this property?
Want to see it for yourself?
Call or text 719-680-0743 anytime.
(Your call will be answered by a friendly real estate professional, not a call center.)
Quick Facts...
Street Address: 20016 Whiskey Canyon
Closest City: Weston
County: Las Animas
Zipcode: 81091
Longitude: -104.957607
Latitude: 37.182841
Ranch Development: Aspen Rose
Parcel Number: 4
Parcel Size in Acres: 35.2
Tax ID: 14122800
Tax Year: 2015
Taxes: 7.79
Zoning: Ag Vacant
Legal Desription: ASPEN ROSE RANCH UNIT-1- TRACT-4- CONT-35.20 ACRS M/L (LOCATED IN PT-NWSW-03- & PT-NESE-04-32-68)