ALL YOU WILL EVER NEED-AND A SPECIAL LAND TO LOVE~
Santa Fe Trail Ranch F-20 Unit 9 (33141 Fisher Peak Parkway, Trinidad)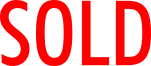 Built in 2017 by a Very Special Man so that the Physicall Challenged could enjoy a Mountain Paradise too....This Property is Sooo Special!!! Steel Building (51 x 82) with living quarter that include a total living space with large covered porch, huge RV garage and shop, upper loft, home and two apartments...finished living space 2682 SQ FT with a total of 5182 SQ FT., inclusive of the shop, etc. 3.5 baths and 3 bedrooms (apts.) with office, handicapped master bath, solid and quality upscale contruction. (6 inch slab foundation). City Water and full amenities. The land is one of the best of the best....lush forest with groomed wildlife trails for usability and enjoyment. VIEWS of the Rocky Mountains, Fishers Peak, and forest valleys await the lucky buyer for such an affordable underpriced value. See It Now and Expand your Horizons!
Price:
$349,900.00
SOLD
438
Features at a Glance...
Survivalist Features and Large Generator Included
Two Guest Apartments
Large Front Covered Entertainment Porch
Groomed Wildlife Trails
VIEWS!!!
Private Roads and Wildlife Areas
Large Unfinished Loft
RV Garage and Huge Shop
Survivalist Features and Large Generator Included
Upscale and Quality Construction
984 SQ FT Covered Porch
Have a question about this property?
Want to see it for yourself?
Call or text 719-680-0743 anytime.
(Your call will be answered by a friendly real estate professional, not a call center.)
Quick Facts...
Street Address: 33141 Fisher Peak Parkway
City: Trinidad
County: Las Animas
Zipcode: 81082
Ranch Development: Santa Fe Trail Ranch
Parcel Number: F-20 Unit 9
Year Constructed: 2017
Total Number of Bedrooms: 3
Total Number of Bathrooms: 4
Total Number of Rooms: 13
Square Footage Above Grade: 5182
Total Square Footage of Living Area: 2682
Parcel Size in Acres: 35.07
Tax ID: Parcel Number 13051500
Tax Year: 2017
Taxes: 2354.88
Zoning: R-3
Legal Desription: SANTA FE TRAIL RANCH UNIT-9- (OAK PARK) LOT-F20- CONT-35.07 ACRS M/L (LOCATED IN TWP-35- RNG-64) ,