511 W Colorado Ave, Trinidad
Trinidad, Colorado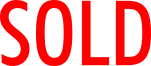 Beautifully remodeled Victorian home on Colorado Blvd 4+ Bedrooms, 2 baths, original hardwood floors, Stained glass accents the front room, hanging swing on the front porch, large bedrooms, Large windows brighten the rooms, decorative fireplace in dining room. Large eat at island in the updated kitchen, stainless appliances... MOVE IN READY! Super clean! Super cute. Detached 1 car oversized garage and fenced yard!
Price:
$282,000
SOLD
20-807 458
Have a question about this property?
Want to see it for yourself?
Call or text 719-680-0743 anytime.
(Your call will be answered by a friendly real estate professional, not a call center.)
Quick Facts...
Street Address: 511 W Colorado Ave
City: Trinidad
County: Las Animas
Zipcode: 81082
Longitude: -104.51431
Latitude: 37.175095
Year Constructed: 1904
Total Number of Bedrooms: 4
Total Number of Bathrooms: 2
Total Number of Rooms: 8
Square Footage Above Grade: 1913
Total Square Footage of Living Area: 1913
Parcel Size in Acres: 0.17
Tax ID: R0014631
Tax Year: 2020
Taxes: 518.00
Zoning: Residential
Legal Desription: C P TREATS BLK 21 LT 24