33247 FISHER PEAK PKWY, Trinidad
Trinidad, Colorado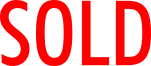 SOUTHERN COLORADO GEM OF A DEAL! If you have been looking for your mountain treasure of a home near the trending, historic and most wanted Trinidad, Colorado lifestyle...see this one NOW! Comes with full guest apartment on 35 acres, zoned agricultural. Animals OK. 180 degree glassed mountain views from huge living area with high cathedral ceiling, custom lighting. In floor heat, A/C, 3 RV hookups, ATV/riding trails, city water, 5 BR, 3 baths, 2 offices, attached garage + large carport, large master BR retreat w/ Jacuzzi, steam shower, enclosed European commode/Bidet. Did I mention the incredible VIEWS and unique short distance to town. CITY WATER WOW and more...Now you can enjoy the Best of the West with Class, Privacy AND all amenities reserved just for you!
Price:
$501,700
SOLD
19-998 459
Have a question about this property?
Want to see it for yourself?
Call or text 719-680-0743 anytime.
(Your call will be answered by a friendly real estate professional, not a call center.)
Quick Facts...
Street Address: 33247 FISHER PEAK PKWY
City: Trinidad
County: Las Animas
Zipcode: 81082
Ranch Development: Fisher's Peak
Year Constructed: 2002
Total Number of Bedrooms: 5
Total Number of Bathrooms: 3
Total Number of Rooms: 9
Square Footage Above Grade: 4904
Total Square Footage of Living Area: 4904
Parcel Size in Acres: 35.17
Tax ID: 14008600
Tax Year: 2018
Taxes: 962.48
Zoning: Agricultural
Legal Desription: SANTA FE TRAIL RANCH UNIT-10- (OAK PARK) LOT-G8- CONT-35.17 ACRS M/L (LOCATED IN TWPS -34- & -35- RNGS -63- & -64)